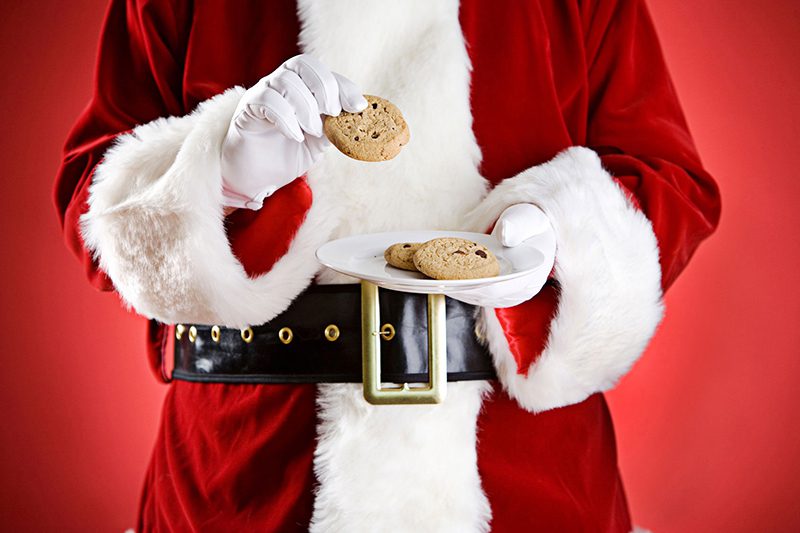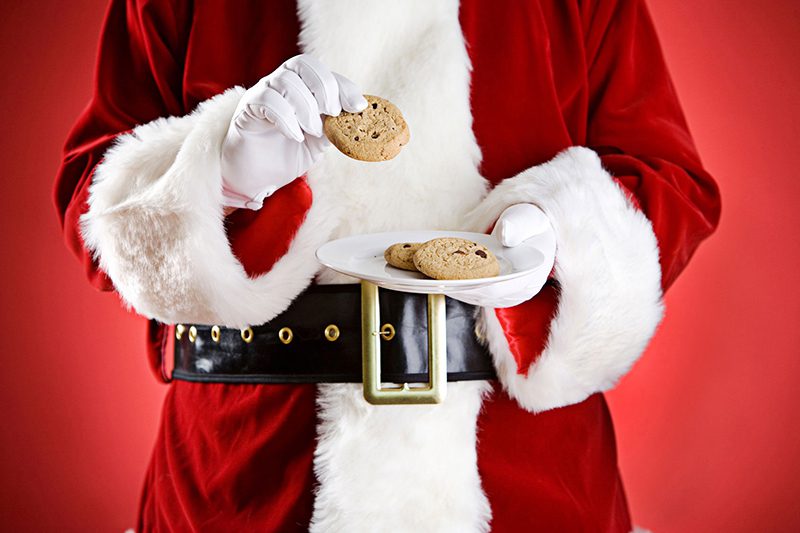 These Christmas cookies are sure to bring a smile to yours (and Father Christmas's!) face.
The holiday season is truly upon us. If you're all caught up on preparing the feast for December 25th or hosting the annual Hanukkah gathering, you'll want to make these ultimate holiday cookies. With the holiday sprinkles (color of your choice), chocolate, and spices, it has everything that you need (and want!) this season.
Whip up the best Christmas cookies using the following recipe!
Ingredients
½ cup peanut butter
½ cup sunflower margarine
¾ cup sugar
¾ cup brown sugar
1 tablespoon ground flax seeds
1 tablespoon corn starch
½ cup almond milk
1 teaspoon apple cider vinegar
½ teaspoons vanilla extract
1 teaspoon almond extract
2½ – 2¾ cups all-purpose flour
1 teaspoon baking soda
1 teaspoon baking powder
½ teaspoon sea salt
1 cup dark chocolate chips
1 cup (plus extra) Christmas sprinkles
Directions
Place the margarine, peanut butter, and sugars in a mixing bowl and using your electric mixer, mix on medium-high speed until light and fluffy, about one minute.
Push the margarine mixture to the edges and in the middle combine the ground flax seeds, corn starch, milk, apple cider vinegar, vanilla, and almond extract. Stir to combine. Now, using the mixer, slowly incorporate the flax seed mixture in with the margarine mixture. Continue mixing until light and fluffy again.
Push the margarine mixture to one side and combine the 2½ cups of flour, baking soda, baking powder, and salt. Stir to combine. Use your mixer to combine the flour mixture with the margarine mixture. Mix to combine. Add the chocolate chips and sprinkles and mix until evenly distributed.
When you're ready to bake the cookies, turn your oven to 350F.
Use a cookie dough dispenser to drop cookie dough roughly 1½ inches apart on your cookie sheet. Pour some additional sprinkles on a plate and grabbing one ball of cookie dough at a time, dab the top of the cookie dough ball into the plate of sprinkles to give the top a nice coating. Place it back on the cookie pan and gently smash the top of the cookie to ensure that the new sprinkles are embedded in the cookie dough ball. Repeat with each cookie.
Place the prepared pan of cookie dough balls in the oven and bake for 8-9 minutes. These cookies are best when they're slightly undercooked so be careful not to overbake.
Remove the pan from the oven and allow the cookies to cool slightly before placing on a wire rack to cool completely.
Repeat until all the cookies are done. Store in an airtight container.
Leave a couple of these cookies out for Father Christmas – along with a tall glass of almond milk! From the professionals at Unisource Insurance Associated, we hope that you enjoy these delicious cookies! For all of your insurance needs in Wauwatosa, Wisconsin, contact us today!