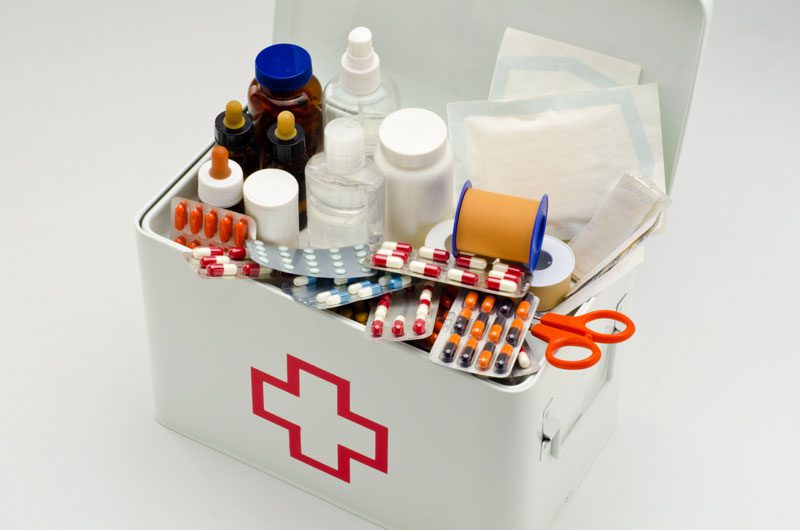 Supplies to keep in your vehicle at all times.
We spend a lot of time in the car. On average, American drivers spend more an 17,600 minutes behind the wheel each year. With this in mind, it's safe to say that your vehicle really is your home away from home. So that your journey stays safe and that you're prepared for any occurrence, it's important to keep a few items on hand. An emergency car kit can be a great tool when you're stranded, and you'll always be glad you took the time to put one together! Here's what you need to get started.
 Spare bottles of fluids
Keep bottles of coolant, oil, and windshield-washer fluid handy in case you run out during your trip. It's also a good idea to check these fluid levels regularly to avoid getting caught out.
Flashlight and batteries
If you break down at night and need to inspect your car's engine, change a tire, or alert a passer-by, you'll need a flashlight. Aim to carry extra batteries just in case!
Your phone's charger
If you need directions or you get into an accident and need to call for help, then having a working phone (with a full battery!) will make for a much easier process.
Water and energy bars
Stay hydrated on long journeys and when waiting for roadside assistance by keeping a few spare bottles of water to hand. If you get stranded in your car, then you'll be grateful for packing water and snacks, too.
First aid kit
To help with minor injuries, a first aid kit can make your journey more comfortable.
Tire inflator and sealer
An aerosol can of tire inflator can help to plug a leak in the tire just long enough to get you to the auto shop.
Flares or reflective triangle
If you break down on the side of the road, these items will help alert other drivers that you are stationary.
Disposable camera
If you get involved in an accident, you'll need to take pictures of the damage. If your phone dies or you don't have an electronic device on hand, storing a trusty disposable camera in your vehicle ensures that you are able to record the damage.
Maps
Paper maps never lose service or battery. Keep an up-to-date paper map in your car in case you get lost and your phone cannot help with directions.
Before you get behind the wheel, it's important to be prepared for the unexpected, whether that means stocking a supply kit or reviewing your auto insurance. To find the right car insurance to fit your needs, turn to the agents at Unisource Insurance Associates.  Our dedicated team serves Milwaukee and the neighboring cities of Wisconsin.  Contact us to get covered today.