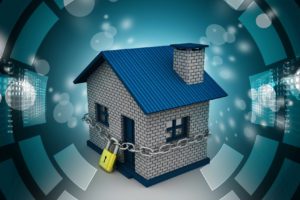 Home Security Options
Home security measures have been around for centuries. What started with just a simple door lock has now turned into a full-scale security system to keep your house and belongings better protected. If you are looking for a better way to keep your house safe, consider these new home security options:
Smart cameras – cameras help you to see exactly what is going on at your house at any given moment. While that used to mean many yards of wiring and other bulky equipment, they are now becoming much easier to install. With wireless cameras that are motion activated, the batteries and storage space will last months longer than ever before.
Keyless entry – instead of digging around your pockets or purse to find your keys to open your front door, you can now hook up your front door lock to your smartphone or enter a code to get into your house. The locks that connect to your phone will also allow you to unlock your door for a visitor if they get to your house before you are able to make it home.
Home automation – leaving your house empty for an extended period of time while you are on vacation can increase the chances of your house being broken into. With home automation, you can turn on lights or the TV to make your home seem occupied while you are away to prevent the chances of a burglary.
Along with keeping your house safe, installing the newest home security systems can help you save money on your homeowner's insurance policy, since there is less of a risk that your house will be broken into.
For all of your homeowner's insurance needs, contact the insurance professionals at Unisource Insurance Associates in Wauwatosa, Wisconsin. We will work with you to ensure that you have the coverage that you deserve.