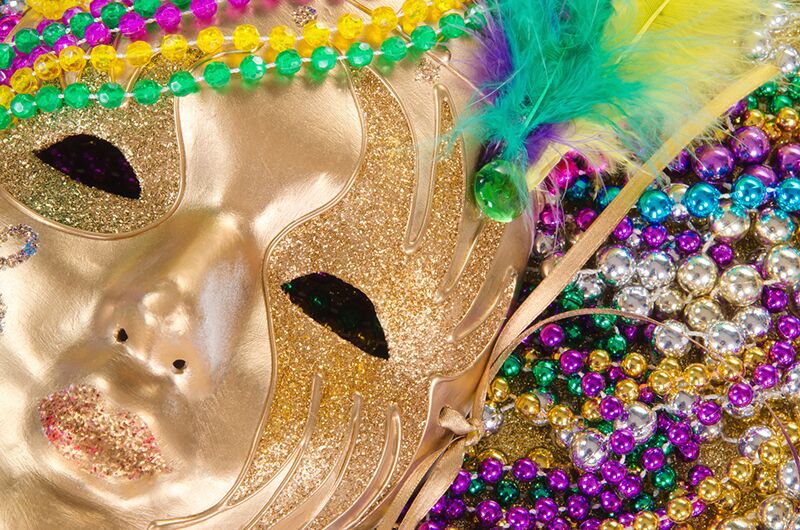 Learn a little bit more about the history of Mardi Gras and Lent.
This year, Mardi Gras falls on Tuesday, February 13th.  Mardi Gras or "Fat Tuesday" is the celebration leading up to Ash Wednesday (February 14th), the first day of Lent.  Curious to learn more about how Mardi Gras and Lent are related?  Then read on to learn some interesting fun facts.
1) Mardi Gras got its name from the practice of eating rich, fatty foods in preparation for the fasting of Lent.
2) In America, Mardi Gras is synonymous with New Orleans.  While the celebration originally had religious connotations, the people of New Orleans now treat Mardi Gras as a huge party, celebrating with massive parades and revelling on the streets.
3) In New Orleans, the people riding parade floats are legally mandated to wear masks.  This law was originally meant to eliminate the constraints of the social hierarchy and allowed people to interact with each other freely.
4) In contrast to the excess of Mardi Gras, Ash Wednesday marks the first day of Lent in Western Christianity.  This religious holiday starts off the 40 days of fasting leading up to Easter Sunday.
5) Ash Wednesday got its name from the practice of using ashes to mark the sign of the cross on people's foreheads as a form of blessing.  The ashes used are made from burning the sacred palms that were distributed on Palm Sunday of the previous year.
6) The season of Lent mirrors Jesus' own 40 days of fasting and is meant to remind worshippers about their own mortality and asks them to reflect on their sins.
We at Unisource Insurance Associates would like to wish you a happy Mardi Gras and a blessed season of Lent.  Are you looking for assistance with your insurance this month?  Then don't hesitate to contact us.  Located in Wauwatosa, Wisconsin, we are ready to get you covered today.