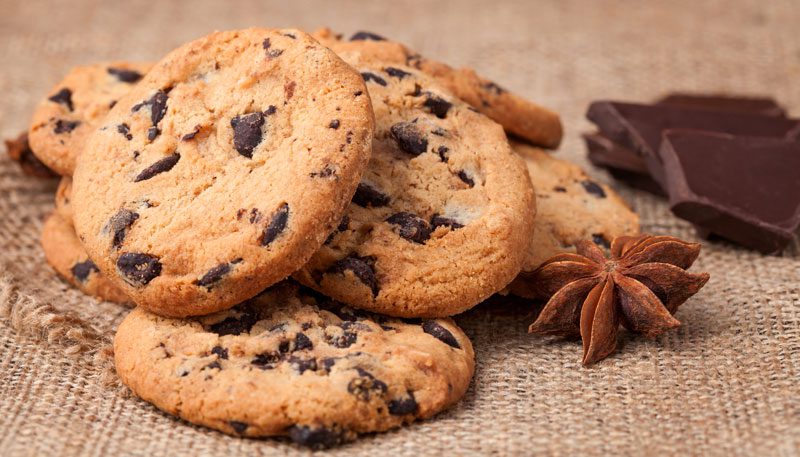 Satisfy your taste buds without packing on the pounds!
It's National Chocolate Chip Cookie Day (May 15th), so of course, that means we get to celebrate by whipping up some of the cookies! Even though it's the national day to enjoy chocolate chip cookies, it doesn't mean that you have to break your diet or load up on calories.
Instead, you can bake up a fresh batch of healthy cookies. 'Healthy' may be a stretch, but this batch is a lot better for you (and taste just as delicious) without loading on the pounds.
Ingredients
1 ¼ cups + 2 tablespoons oat flour
¾ cup white whole wheat flour
½ teaspoon baking powder
½ teaspoon baking soda
½ teaspoon salt
⅔ cup solid coconut oil
¾ cup organic, unrefined coconut sugar
¼ cup dark brown sugar
2 flax eggs (2 tablespoons ground flax + 6 tablespoons warm water, whisk together, let set for 5 mins)
1 teaspoon vanilla extract
¾ cup chocolate chips
Your appetite!
Instructions
Preheat the oven to 375°F. Line a cookie sheet with parchment or greased foil.
In a medium-mixing bowl, whisk together the dry ingredients: oat flour, whole-wheat flour, baking powder, baking soda, and salt. Set aside.
In a large mixing bowl, add coconut oil, coconut sugar, and brown sugar. Cut solid coconut oil into sugar. (Cutting tip: you can use a pastry blender or a very sturdy whisk. Using the whisk method, grind the coconut oil into the sugar using a downward, smashing motion. Keep going until you get a slightly grainy, dough-like texture).
Add flax eggs and vanilla to sugar mixture. Whisk until well incorporated.
In thirds, add the dry mixture to the wet mixture. Whisk until it gets tough to stir and is a cohesive, well-mixed dough. Fold in chocolate chips.
Scoop 2 tablespoons of cookie dough into your hand and roll into a ball. Make sure the ball is smooth and round, otherwise, the cookie will spread.
Place these balls evenly spaced apart on the prepared cookie sheet. Flatten slightly.
Bake for 8-10 mins. After removing from the oven, give the baking sheet a few light taps to flatten the cookies to perfection.
Using a flat heatproof spatula, lift the cookies off the baking sheet and place onto a cooling rack. Allow to cool. Enjoy!
From the insurance professionals at Unisource Insurance Associates, we hope that you enjoy National Chocolate Chip Cookie Day in decadence and health! Visit us for all of your insurance needs in Wauwatosa and neighboring cities of Wisconsin.