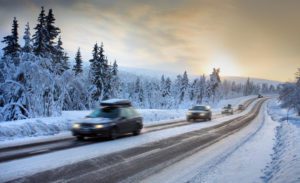 The cold winter weather is officially here, which means it is time to pull out your favorite jacket and put your ice scraper in the trunk. While you are enjoying some of the first brisk days this year, it is important to make sure you know how to stay safe while on the road. Keep these winter driving tips in mind during the chilly season!
Do not drive if you are drowsy. Put off your plans or ask someone else to drive. Driving while drowsy can be very dangerous, especially in the cold months.
If you warm up your car in the morning, do not do it in an enclosed space, such as a garage, even if the door is open. Dangerous carbon monoxide can easily accumulate while your car is warming up.
Check your tires at least once a week to make sure that they are properly inflated. The cold temperatures can cause the air in your tires to compress and lower your tire pressure.
Keep your gas tank at least half full during the cold months to prevent gas line freeze ups. Having gas in your car will also help to ensure that you can run the heater and stay warm if you are ever stranded.
After you drive through heavy snow, check to make sure that the exhaust pipe is not clogged with snow or ice. A clogged pipe can cause carbon monoxide gas to leak into your car while you are driving.
Always keep an emergency pack in your car that contains warm clothes, snacks, a flashlight and extra batteries in case you get stuck.
Having the right auto insurance policy is the best way to ensure that you are better protected in case of any unfortunate event this winter. Contact Unisource Insurance Associates in Wauwatosa, Wisconsin for all of your auto insurance coverage needs.